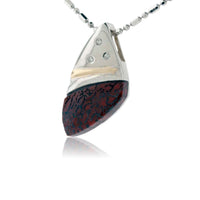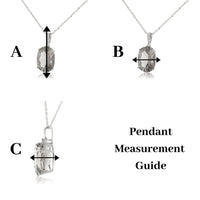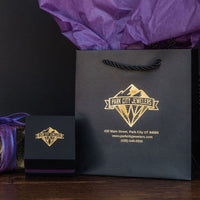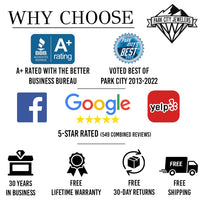 Dinosaur Bone Drop Pendant with Diamond Accents
Regular

$769.00
Sale

$769.00

Regular
Unit Price

per
Dinosaur Bone Drop Pendant with Diamond Accents
Immerse yourself in the grandeur of a bygone era with our Dinosaur Bone Drop Pendant with Diamond Accents. An intriguing blend of primitive allure and modern elegance, this pendant, priced at $769, serves as a testament to the timeless beauty that endures through the ages.
This unique piece showcases the rugged charm of dinosaur bone, a material as rare as it is fascinating. Its gem-quality dinosaur bone, sourced exclusively from the famed Morrison Formation, bears the marks of a Jurassic world dating back to 150 million years. Each bone fragment, colored and patterned by nature's touch over the eons, tells a story of ancient life and transformation.
Adding to the allure of this pendant is the tonal contrast between 14K white gold and 14K yellow gold. This harmonious blend creates an aesthetic appeal that is as dynamic as it is stylish. A hint of shimmering brilliance emerges from the diamonds, having a total weight of .025 carats, which are delicately hammer set into the 14K white gold.
A piece designed not just for beauty, but also for practicality, the pendant is created to easily slide over the chain of your choice, allowing for customization and personal flair. Please note, the chain is not included.
With over 30 years of experience in handcrafting exceptional jewelry, Park City Jewelers takes pride in each piece we create. Our commitment to quality is not only reflected in our nearly 400 five-star reviews but also in our free 2-day shipping and lifetime warranty offers. Embrace the bold, rare beauty of the dinosaur era mingled with contemporary elegance, encapsulated in our Dinosaur Bone Drop Pendant with Diamond Accents.
Product Details: 
 

Pendant / Setting Information

Gemstone Details

Accent Stones

Style #: P-304-B

Type: Dinosaur Bone

Type: Diamond

Metal Type: 14K White & Yellow Gold

Shape: N/A

Shape: Round

Length: 21mm

Number: 1 

Number: 3

Width: 11.5mm 

Carat Weight: N/A

Carat Weight: .025

Chain Type: Not Included

Dimensions: N/A

Avg. Color: G-H

Chain Length:

Avg. Clarity: VS1 - SI2
Shipping:
Shipping is FREE!
Made to Order in White & Yellow Gold: Expected Arrival 10-14 Days

International Shipping: Arrival 7-21 Days