Choosing a jewelry chain is an important step in the pendant buying process, and the right chain will match your body's dimensions, wardrobe, and compliment the pendant. There are many chain options to choose from. In this guide we cover many of the options to consider when choosing the perfect chain for you.
TL : DR
This article is fairly exhaustive. The short version is: The average chain length is 18 inches for women and 20 inches for men. The optimal chain length is going to depend on your physical dimensions, where you would like the chain to fall, and the type of clothing you plan to wear with the chain.
If the chain is going to hold a pendant it needs to be small enough to fit through the bail (the part of the pendant the chain goes through) and should complement the design of the pendant. A chain extender can take some of the guesswork out of choosing the right chain length and make a chain more versatile.
Chain Length
Chain length is the first consideration when choosing a chain. It will determine where the pendant will sit on your chest. The most common chain length is 18 inches for women and 20 inches for men. The diagram gives you a good idea of where a chain will sit based upon chain length.

Another common method to determine the proper chain length is to measure the radius of your neck with a soft tape measure or a string and a ruler. Once you have your measurement simply add 2- 4 inches to get the minimum recommended chain length. 

If you're unsure of which chain size to get, or would like your chain to have a little bit more versatility, you can order a chain extender. These run as little as $25 and can add 0 - 4 inches to the length of the chain. This is also a great option if you're you'd like to purchase a shorter chain for layering, but also want the option of a longer chain for different outfits/necklines.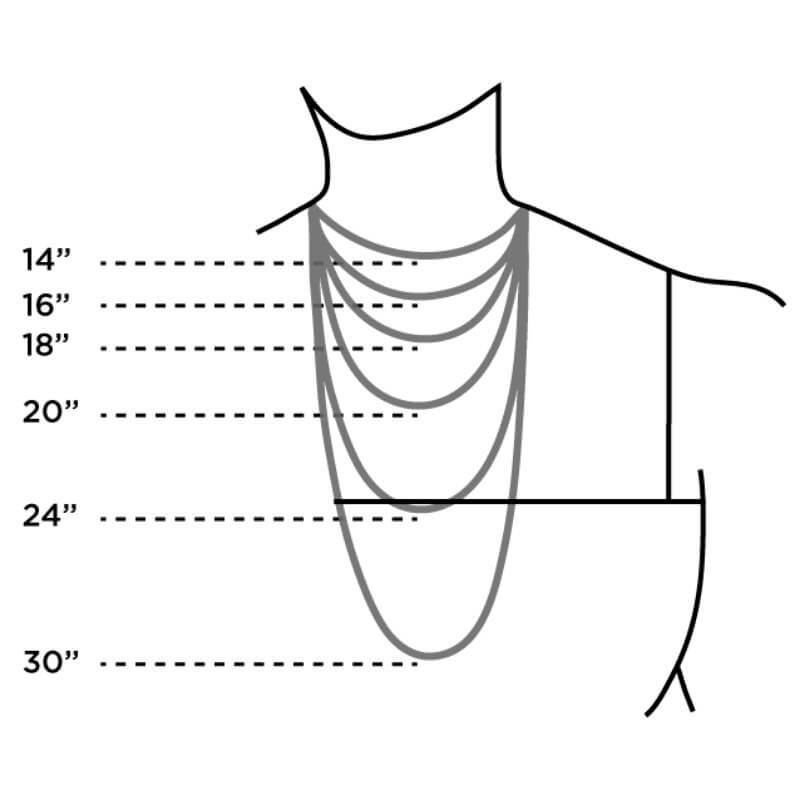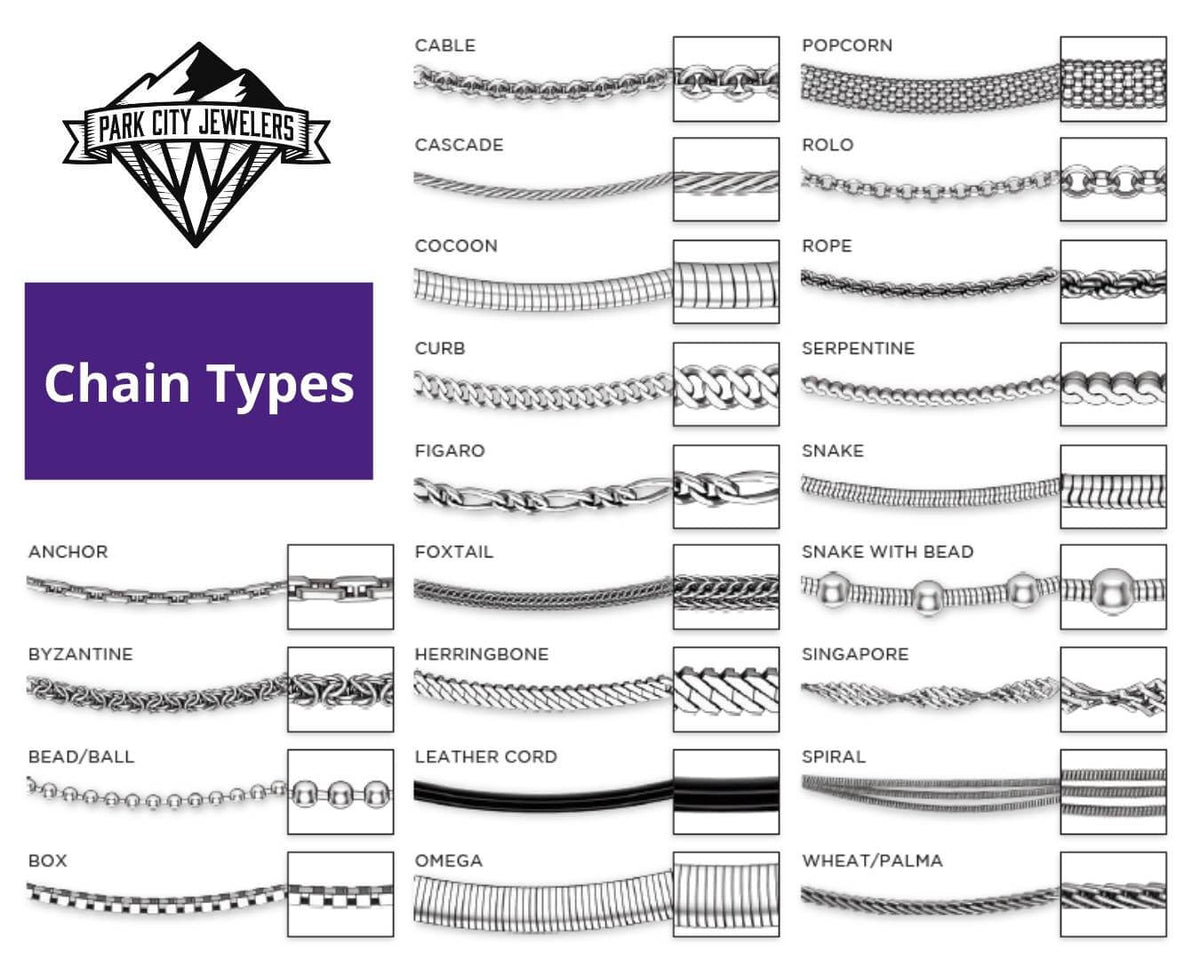 Chain Types
Chains come in many different designs. Some designs are considered more masculine or feminine, while others are considered unisex. Each chain style has unique characteristics that should be considered when purchasing. Some designs are more durable and easier to repair ensuring longer life, while others match certain pendants better than others.

There are a few chain types that have become popular that aren't included in the chains diagram. Two important ones are paperclip chains and bar-ball chains.

Paperclip chains are very popular right now and women love their elegant and simple design. Ball-bar chains have been our favorite for years now because of the unique way they sparkle which compliments diamonds particularly well.
Chain Material
Chains are most often made from sterling silver or gold. Sterling silver chains offer a lower price point than gold chains, but can only be used with sterling silver pendants. Silver is softer than gold and a gold pendant will wear out a sterling silver chain and vice versa. 

Gold chains come in different karat weights including 10K, 14K, 18K, and 22K. The lower the karat weight the more alloy and less gold was used while making it. Lower karat weight chains are stronger and more durable. The downside to lower karat weights is they have less gold, and therefore, less gold color. 14K and 18K are the optimal range for color and strength. 

Gold chains can be gold-filled, gold-plated, or hollow. We do not sell these types of gold chains because they lose their gold coloring, break easily, and cannot be repaired. You would be surprised at how easily these chains can break, and a firm pull can easily tear it in half. We recommend avoiding these types of chains.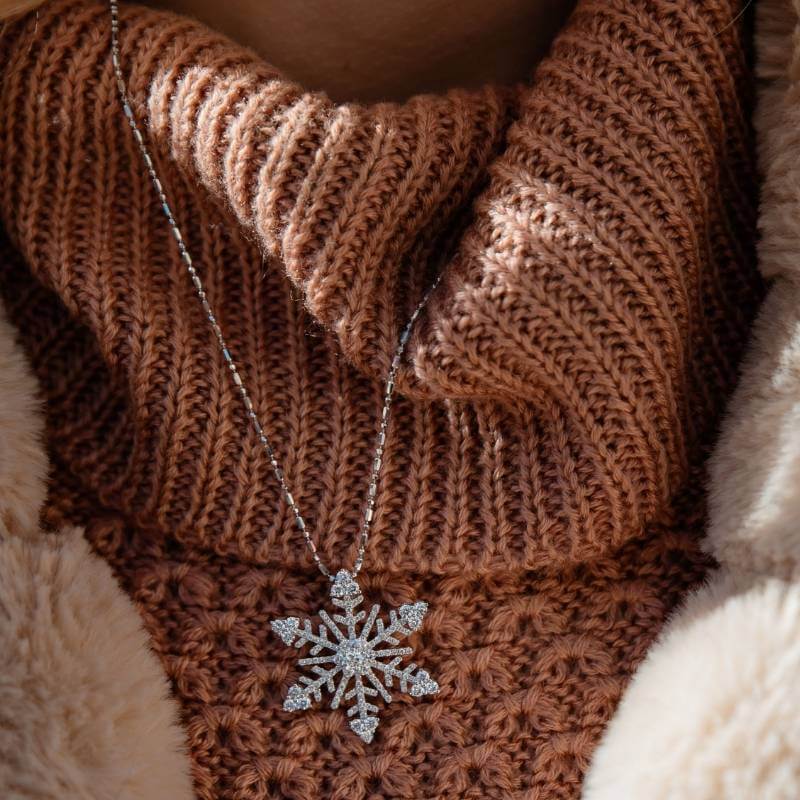 Chain Width
Each chain type comes in multiple widths measured in millimeters. As chain width gets wider the chain is generally more durable while smaller widths are more elegant. Chain width is a personal preference, but it is important to make sure the chain isn't so wide it can't fit through the pendant's bail. It's also important that the chain is strong enough to support the size of the pendant.  
Chain Care
As with all of your jewelry, chains should be worn and stored with care. You should never sleep with your jewelry or chain on. Sleeping with your jewelry causes unnecessary wear and tear on your jewelry and your bedding, and it's not uncommon to lose stones out of jewelry when worn to bed. 

Avoid water and moisture. Moisture wreaks havoc on jewelry and can cause it to oxidize and tarnish over time. This is true for both sterling silver and gold jewelry.

Don't store your jewelry in the bathroom. Don't swim or use hot tubs with your jewelry on. Hand sanitizer can also damage jewelry if you use the wrong type.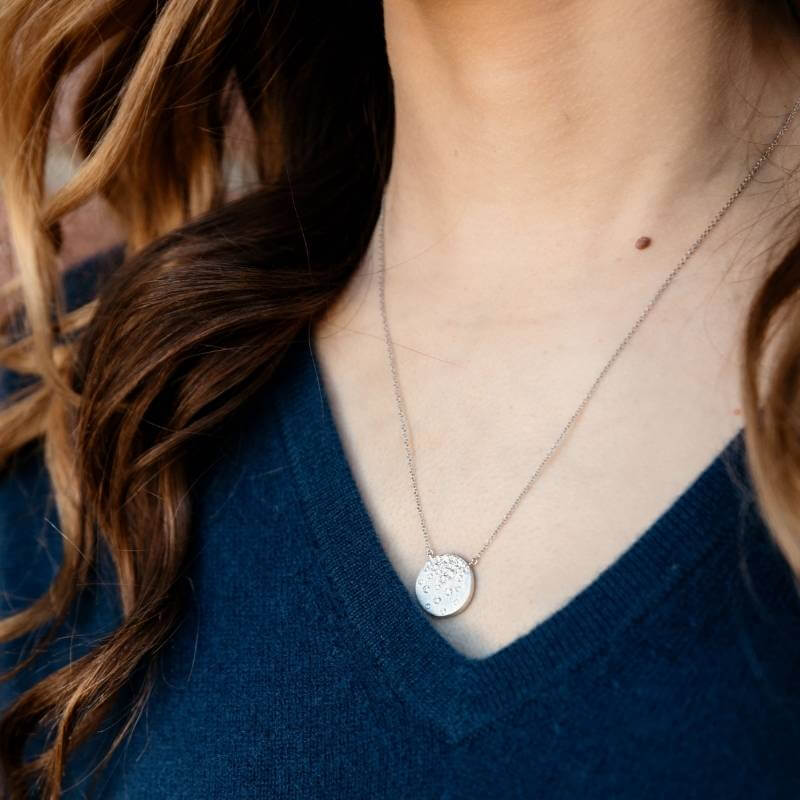 Hair Pulling
Last but not least, certain types of chains are more prone to pull your hair than others. These include box chains and snake chains. If you've had a problem with chains pulling your hair in the past, or want to avoid this potential problem, we recommend you avoid these chains. (We're not promising that other chains won't pull your hair, just that they seem much less likely to do so).
Conclusion
This is our basic overview of choosing a chain. If you have questions don't hesitate to reach out to one of our jewelry experts by phone, stopping in the store, or by using the chat icon on the bottom right of this page. We have helped thousands of men and women choose the perfect chain to match their style.

Location:
430 Main Street Park City, UT 84060
Phone: Call or Text!