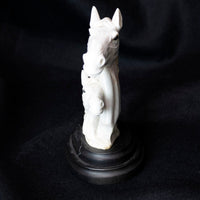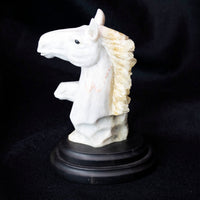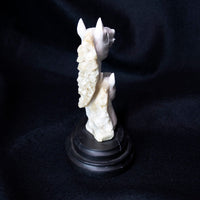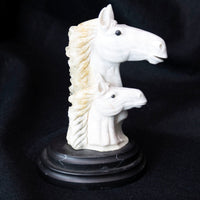 Quartz and Calcite Two Horse Head Statue
Regular

$995.00
Sale

$995.00

Regular
Unit Price

per
Quartz and Calcite Two Horse Head Statue
Steeped in history and symbolism, the horse has long been a beacon of freedom, power, and trust. The Quartz and Calcite Two Horse Head Statue from Park City Jewelers is more than just a piece of art; it's a tale of two souls, a dance of light and shadow, and a testament to the spirit of the wild. Meticulously hand-carved by seasoned artisans, the interplay between the transparent quartz and the luminous calcite captures the essence of the horses' grace and majesty.
Set this in a place of honor in your home or office, and let its radiant energy inspire conversations, evoke emotions, and transport one back to the heartbeats of galloping hooves. Beyond its aesthetic appeal, the combination of quartz, known for its healing properties, and calcite, believed to amplify energy, turns this statue into a reservoir of positivity and harmony.
For over 30 years, Park City Jewelers has been weaving stories into art. Entrusted with nearly 400 five-star reviews, our commitment to excellence is not just a promise but a legacy. With free 2-day shipping and our lifetime warranty, this statue is more than an acquisition; it's an heirloom.
Dimensions 8" x 5" x 4"
* Not eligible for free shipping