Fossils
Park City Jewelers is the most unique jewelry store you'll ever visit, and our extensive collection of fossilized specimens is one of the many reasons why. Your first question probably is "why would a jewelry store have fossils?"

It all comes back to owner Ken Whipple and his fascination with rocks and minerals. Ken became enamored with rocks and minerals when he was very young, and to this day one of his favorite activities is to go "rock hounding" throughout the western United States. In fact, it was Ken's love of minerals that eventually led him to start making jewelry and becoming an award-winning jewelry designer.

With Ken's experience and keen eye, he is able to find the absolute best and most stunning natural fossilized wall art, dinosaur bone, ammonite, and "gembone" (the term for dinosaur bone used in fine jewelry) specimens to include in our breathtaking collection.

Read on to learn more about the amazing fossilized pieces for sale from Park City Jewelers.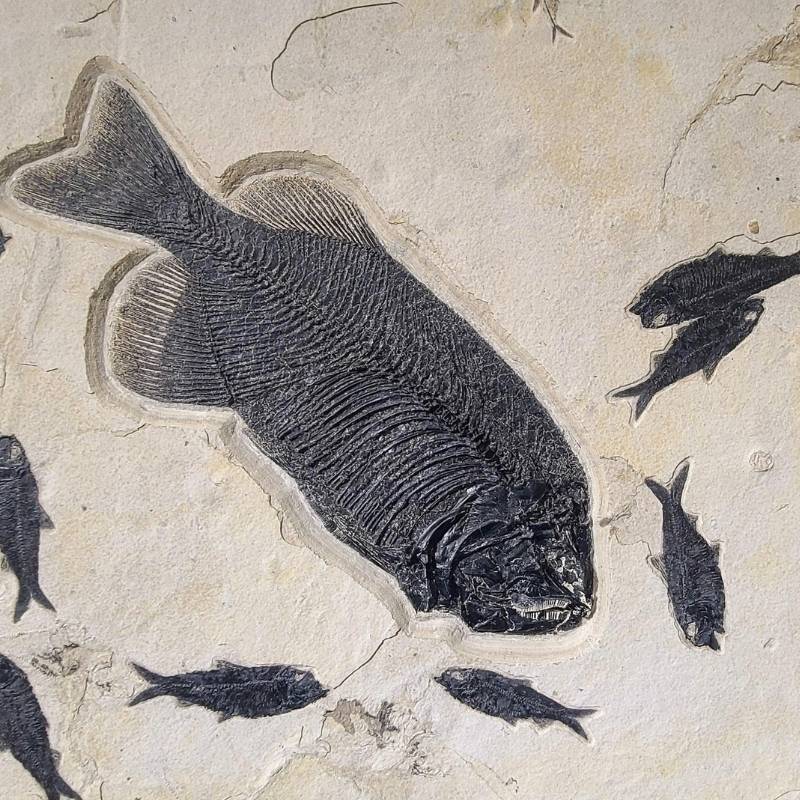 Fossilized Wall Art
When you first walk into the store you'll notice our stunning fossilized wall art. Each piece is 100% natural and painstakingly preserved to show every detail. Fish and underwater plant life are the most common pieces that we carry, and each is a one-of-a-kind masterpiece. Fossilized wall art is a beautiful and natural way to decorate your home.
Agatized Dinosaur Bone
Agatized dinosaur bone occurs when the original bone is replaced (remineralized) with other minerals that surround it. One of the surfaces is then polished to reveal the stunning color and cell structure that is iconic to this type of specimen. These types of fossils are most commonly found in the Morrison formation of Colorado. These pieces are very rare and one-of-a-kind and are sure to become even rarer as time goes on.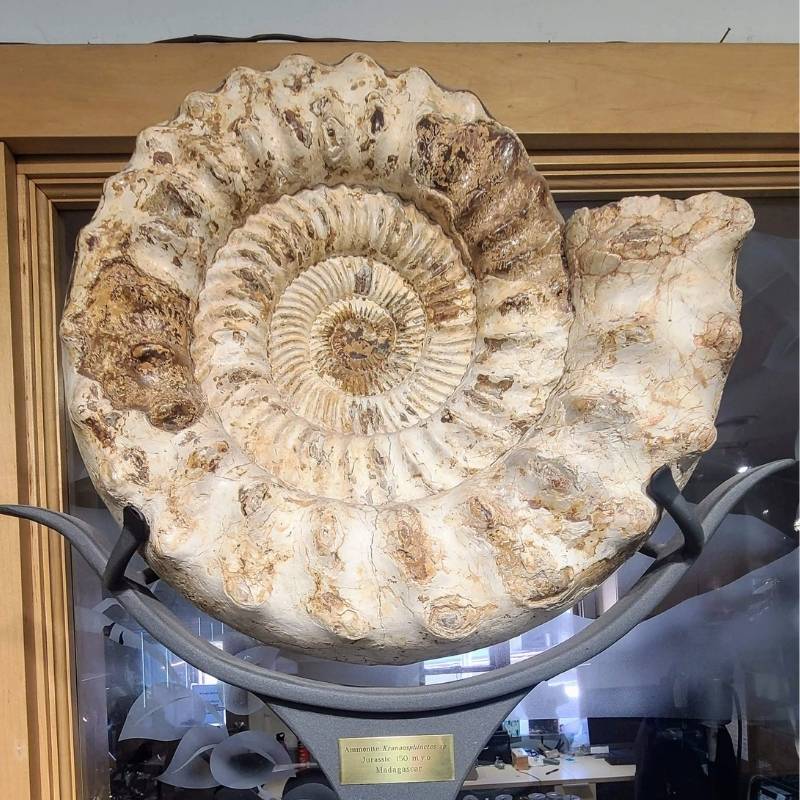 Ammonite
Ammonites are an extinct type of cephalopod related to modern-day octopuses, squid, and cuttlefish. Ammonite fossils are common for a few important reasons. The first is that they thrived for millions of years before becoming extinct during the Cretaceous period. The second is that the natural environment of ammonites was warm, shallow seas; an ideal environment for fossils to develop. We have a stunning collection of ammonite fossils in all shapes and sizes.

Learn more about ammonites from the American Museum of Natural History

Gembone Jewelry
Gem quality dinosaur bone is known as "gembone" and is one of the most beautiful and rare materials used in fine jewelry. Over the years we have amassed a unique collection of colors and patterns of gembone for inlay in our jewelry designs. This gives you the option to choose your own section of gembone for your custom piece, or you can choose one of the timeless designs we have online or in-store.

Learn more about Park City Jewelers gembone jewelry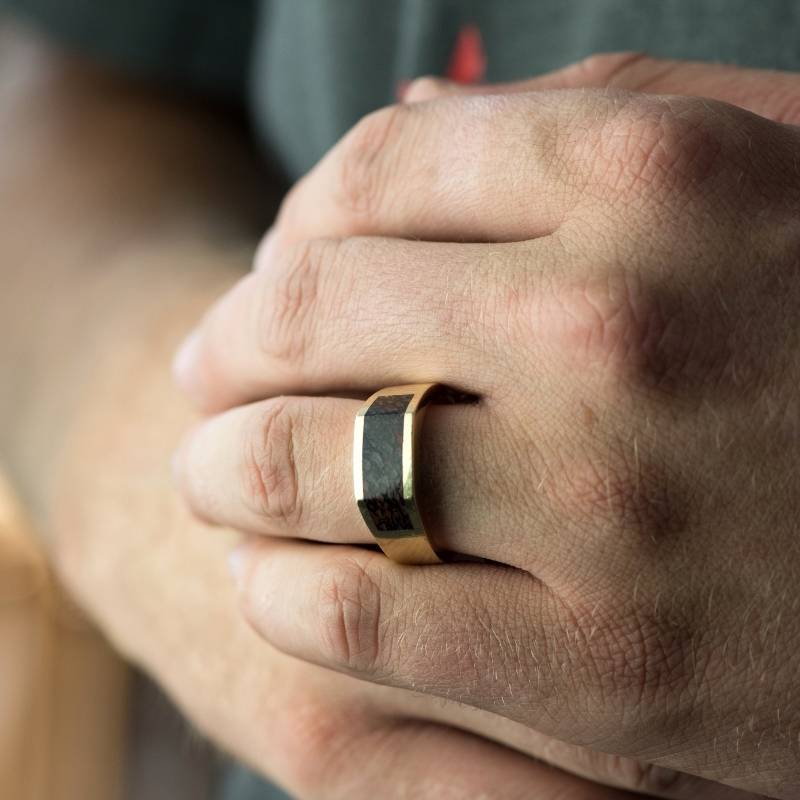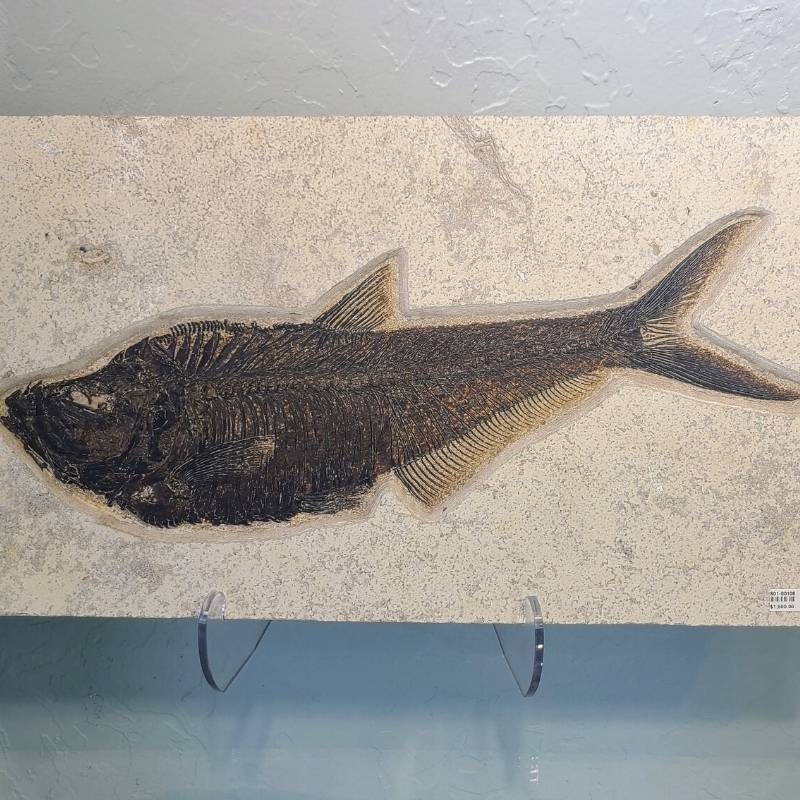 Shop Our Fossilized Specimens and Gembone Jewelry
Our collection of fossils, ammonite, and gembone pieces is very popular, and it's not uncommon for the most beautiful and rare pieces to be sold before they even hit the showroom floor. The best way to shop our collection of fossils and dinosaur bone specimens is to either stop by the store or chat with a member of our team of experts by clicking the chat icon on the bottom right of this page. Our inventory is constantly changing and never the same due to the rare and priceless nature of these pieces. The good news is that we can help you find exactly what you're looking for, even if we don't currently have it in stock.
Shipping
Because of the large and delicate nature of these specimens, they do not qualify for free 2-Day shipping. Shipping and insurance for each item will be calculated on a case-by-case basis, and locally we often deliver large specimens personally.