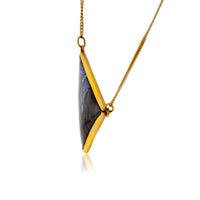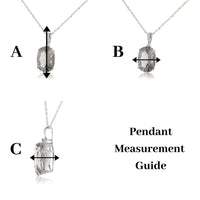 Butterfly Enamel Triangle Shaped Necklace
Regular

$1,800.00
Sale

$1,800.00

Regular
Unit Price

per
18K Yellow Gold with Butterfly Enamel Triangle Shaped Necklace

Product Details:
Pendant Information
Style #: LAR 50

Metal Type: 18K & 22K Yellow Gold
Length: 43.13
Width: 22.85in
Shipping:
Shipping is FREE!
In Stock As Pictured: Expected Arrival 2-3 Days 
More Details:
Larissa fell in love with the ritual aspects of the elemental processes of working with metal, glass, gems – making a precious object - capturing in that miniature fragment a timeless, magic quality. 
As a student she found a strong sense of context for the history, art and literature she studied in her own personal history. With roots in Europe and the Middle East. Byzantine, Hellenistic and Egyptian artifacts are a part of her daily life. The European Renaissance, 18th Century enamels and jeweled objects, the Art Nouveau as well as Japanese Art made a deep impression on her.
She responded very strongly to the "abandon" in these works. Their creators used materials for their colors, qualities of light, texture - striving for the surprise, the impossible - these were their language. These strongly influenced her own "personal voice" in jewelry.

She uses the classic themes of the nude, plants, birds and landscape as vehicles to explore forms, line and texture - always expanding further the possibilities of the enameling medium with its endless range of colors and the ability to play with light.