Insider Tips For Enjoying Halloween In Park City!
Halloween in Park City is so much fun! We all love being here this time of year. In addition to the spectacular scenery and the hint of snow, here are 5 fun ways to celebrate (and some local insider tips, too!):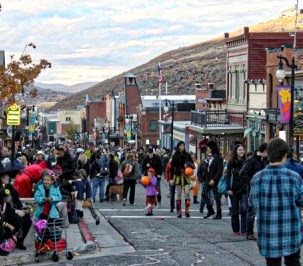 1. 
Bring your kids for trick or treating on Main Street from 

3-5pm.

 

2. Bring your dog all dressed up for the Howl-o-ween parade at 

5pm.



3. Plan to arrive an hour early for parking. Seriously.

4. We give out THOUSANDS of pieces of candy. We also have drinks and cookies for our favorite customers, so stop by the store while you wait for the parade.

5. In the past, Main Street Pizza & Noodle has given out full size candy bars, so definitely pay them a visit!

'Level up' your Halloween costume with our Halloween Steampunk, Spiders, 'Pumpkin Spice' and other gorgeous accent pieces. You'll be the talk of the party!

Happy Halloween from PCJ!
Other Articles
Most of us are using more hand sanitizer than ever, but what toll are the chemicals found in hand sanitizer taking on your jewelry?  The answer is... It depends on...
Read More
When you invest in a piece of jewelry it's common to consider how long the piece is expected to last and what kind of care will be necessary to keep it looking its best. The quickest way to get an idea of the durability and required care of a piece is to know the hardness of the gemstone used in the piece.
More and more shoppers are buying their jewelry online, but shopping online poses its own unique challenges. Are the pictures you're seeing online of the actual piece you're purchasing? Unfortunately, the answer to this question is most often no, which can make online jewelry shopping all the more challenging. 
Read on to learn about some of the potential pitfalls of online jewelry shopping, and how we work to avoid them.