Insider Tips For Enjoying Halloween In Park City!
Halloween in Park City is so much fun! We all love being here this time of year. In addition to the spectacular scenery and the hint of snow, here are 5 fun ways to celebrate (and some local insider tips, too!):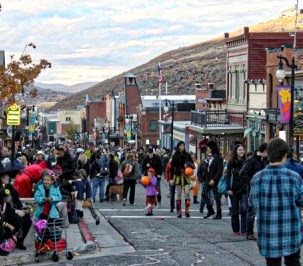 1. 
Bring your kids for trick or treating on Main Street from 

3-5pm.

 

2. Bring your dog all dressed up for the Howl-o-ween parade at 

5pm.



3. Plan to arrive an hour early for parking. Seriously.

4. We give out THOUSANDS of pieces of candy. We also have drinks and cookies for our favorite customers, so stop by the store while you wait for the parade.

5. In the past, Main Street Pizza & Noodle has given out full size candy bars, so definitely pay them a visit!

'Level up' your Halloween costume with our Halloween Steampunk, Spiders, 'Pumpkin Spice' and other gorgeous accent pieces. You'll be the talk of the party!

Happy Halloween from PCJ!
Welcome
Have you been dreaming of having a custom piece of jewelry made? Few things can match the sentimental value and meaning of a custom piece of jewelry. Park City Jewelers is your custom jewelry expert. With four award-winning jewelry artisans on staff, we can create nearly anything you can imagine, from simple designs to complex masterpieces.

We have over 150 years of combined experience crafting custom diamond engagement rings, wedding sets, anniversary bands, birthstone jewelry, men's bands, custom earrings, bracelets, rings, pendants, and much more.

In this blog post, we cover our process of imagining, designing, and crafting stunning custom jewelry. Read on to learn more!
Imagine
A great custom piece of jewelry starts with a great idea. It can be a moment or event you'd like to commemorate for a lifetime, or it can be the perfect combination of gemstones and settings that will make the piece exactly match your personality and style.

If you're interested in a custom piece, but you're unsure of what you want, a great place to start is to look at our jewelry online or in-store. You're sure to find a piece to spark your imagination.

The jewelry artisan you're working with can also be a fantastic resource in guiding you to the materials and design that will speak to your heart.