Tungsten Dinosaur Bone Inlaid Band
Unleash your primal elegance with our Tungsten Dinosaur Bone Inlaid Band from Park City Jewelers. Priced at just $590, this majestic ring is more than a piece of jewelry; it's a relic from a prehistoric era, expertly crafted to adorn your hand today.
The star of this band is the gem-quality dinosaur bone, a tangible echo from the Jurassic period. Sourced from the Morrison Formation—home to the richest dinosaur fossil beds—the bone fragments embedded in this band have been agatized over millions of years, resulting in a gem-like quality that captures the wonder of our planet's ancient history.
The robust and rugged character of the dinosaur bone is beautifully encased in a contemporary setting of durable Tungsten. Known for its resistance to scratches and its hypoallergenic nature, Tungsten brings a modern touch to this timeless artifact, enhancing its durability without sacrificing style.
Each dinosaur bone fragment inlaid in the band is distinct, with unique colors and patterns, making every piece one-of-a-kind. The exquisite design and exceptional craftsmanship—hallmarks of our 30-year-old legacy at Park City Jewelers—are evident in every millimeter of this band.
Voted the best in Park City for 10 years running and backed by nearly 400 five-star Google reviews, we stand by the quality of our handcrafted pieces. Your Tungsten Dinosaur Bone Inlaid Band comes with a lifetime warranty, reaffirming our commitment to your satisfaction. Plus, you'll enjoy free 2-day shipping on us.
Indulge in the remarkable beauty of the past melded with contemporary allure. With our Tungsten Dinosaur Bone Inlaid Band, you're not just wearing a ring; you're wearing a piece of history.
SKU: 400-2000370
Band Width: 8MM 
Metal Type: Tungsten
This ring is a lifetime manufacturer warranty. If your ring cracks or breaks from accidental damage it will be replaced at no charge! 
 Due to the hardness of alternative metals this ring cannot be resized BUT if your finger size changes over time we will replace the ring with a different size for only the price of shipping!
Customer Reviews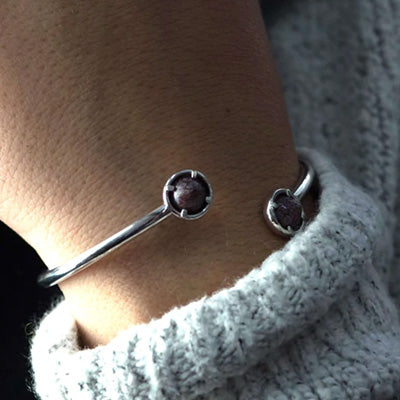 5-Star Review
"I just received my gembone necklace from Ken Whipple, and I am blown away! Beautiful workmanship, exquisite design, fantastic quality material. The beads that Ken selected to highlight the yellows in the bone complement the pendant beautifully. I love how substantial it is, and the fact that I am basically getting two in one by being able to wear the necklace on both sides! Thank you again, so very much."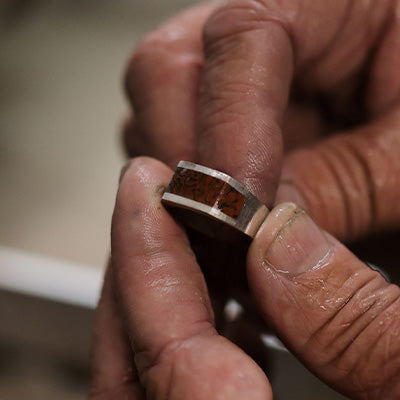 5-Star Review
Great service, Amazingly unique Utah jewelry! Where else can you get a ring with dinosaur fossil and meteorite.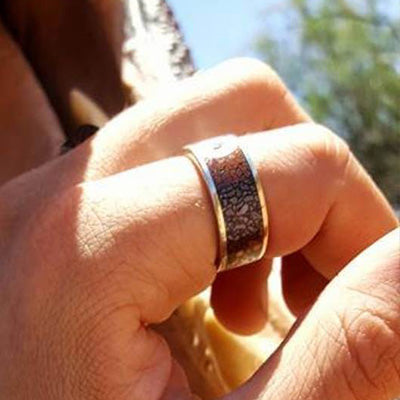 5-Star Review
I have purchased several pieces at the Park City Jewelers. Their custom services are second to none and you'll find many unique prices in their case. It's a great family business and all the people there are wonderful.
Why You Should Choose Park City Jewelers